How We Drove More Than 1200 Flight Bookings for Reno Tahoe International Airport
Services Provided
Strategy
Design
Development
SEO/SEM
---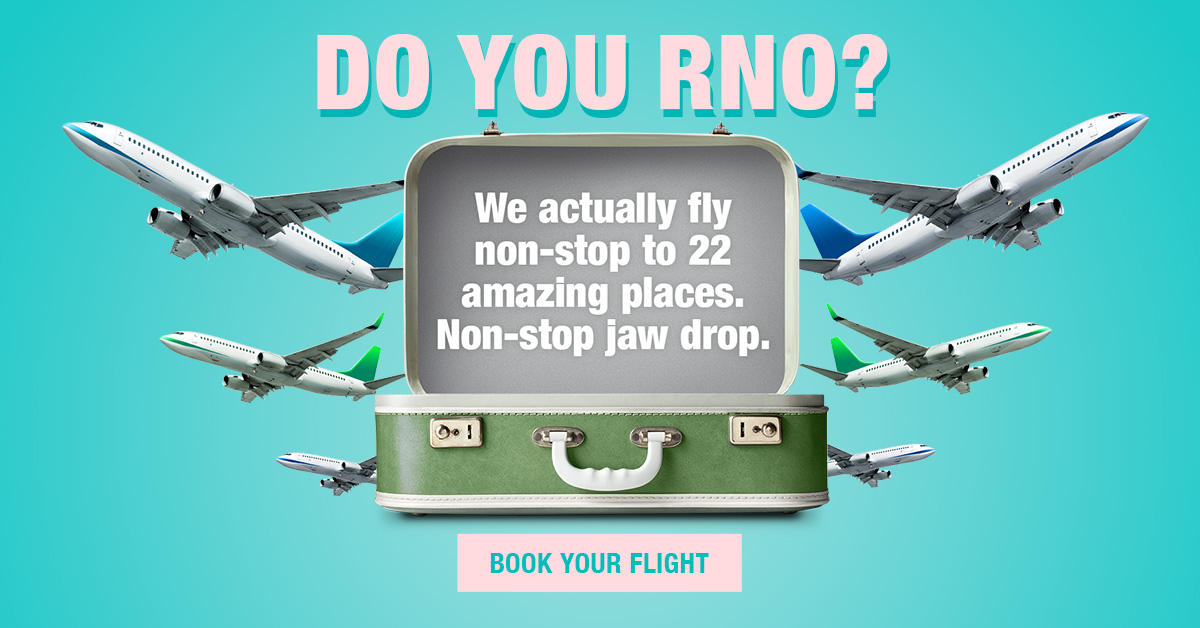 Approach
In recent years, the Reno-Tahoe International Airport (RNO) has seen renovations and upgrades throughout the airport that have had positive impacts on travelers' overall experience while passing through. As a small-hub airport, RNO conveniently serves the Northern Nevada community with 22 non-stop flight destinations across the country with quality service, but RTAA wanted to increase local awareness of non-stop and one-stop flights as well as just how easy, stress-free and (dare we say) pleasant flying out of RNO could be.
Solution
Noble Studios partnered with RTAA to create an integrated marketing campaign to boost awareness about the non-stop and one-stop flight destinations offered at RNO, as well as showcase how RNO shares the qualities and benefits of major airports without any of the hassles.
We set forth with a media plan that would align the audiences based on intent to ensure we reached the right kinds of travelers at all stages of the traveler's journey. With creative digital performance in mind, Noble coined the "Do You RNO?" campaign as an engaging and flexible tagline that would allow for creative testing with various messages that connected to various target audiences across platforms.
In today's saturated market, an effective campaign requires a unique creative approach to leave a memorable impression. With that in mind, we set out to create a fun, playful campaign with a bit of quirk and even some unexpected elements. We also paired the creative with animations and custom audio to bring it to life, aiming to grab the attention of our target audiences.
Campaign assets included a central landing page, digital ads, and billboards to increase audience exposure beyond digital. The print ads show off the bold and vivid colors our creative team selected for the campaign that maximized creative flexibility and were complementary to RTAA's existing brand.
Building a Landing Page
The centerpiece of the 'Do You RNO?' campaign was our landing page that greeted visitors with the primary messaging about RNO's 22 non-stop flight locations. We wanted the look and feel of the campaign to break free of the traditional web design that airports often employ, choosing to leverage a bright pink and teal color palette and imagery to inspire our audiences to take their next getaway.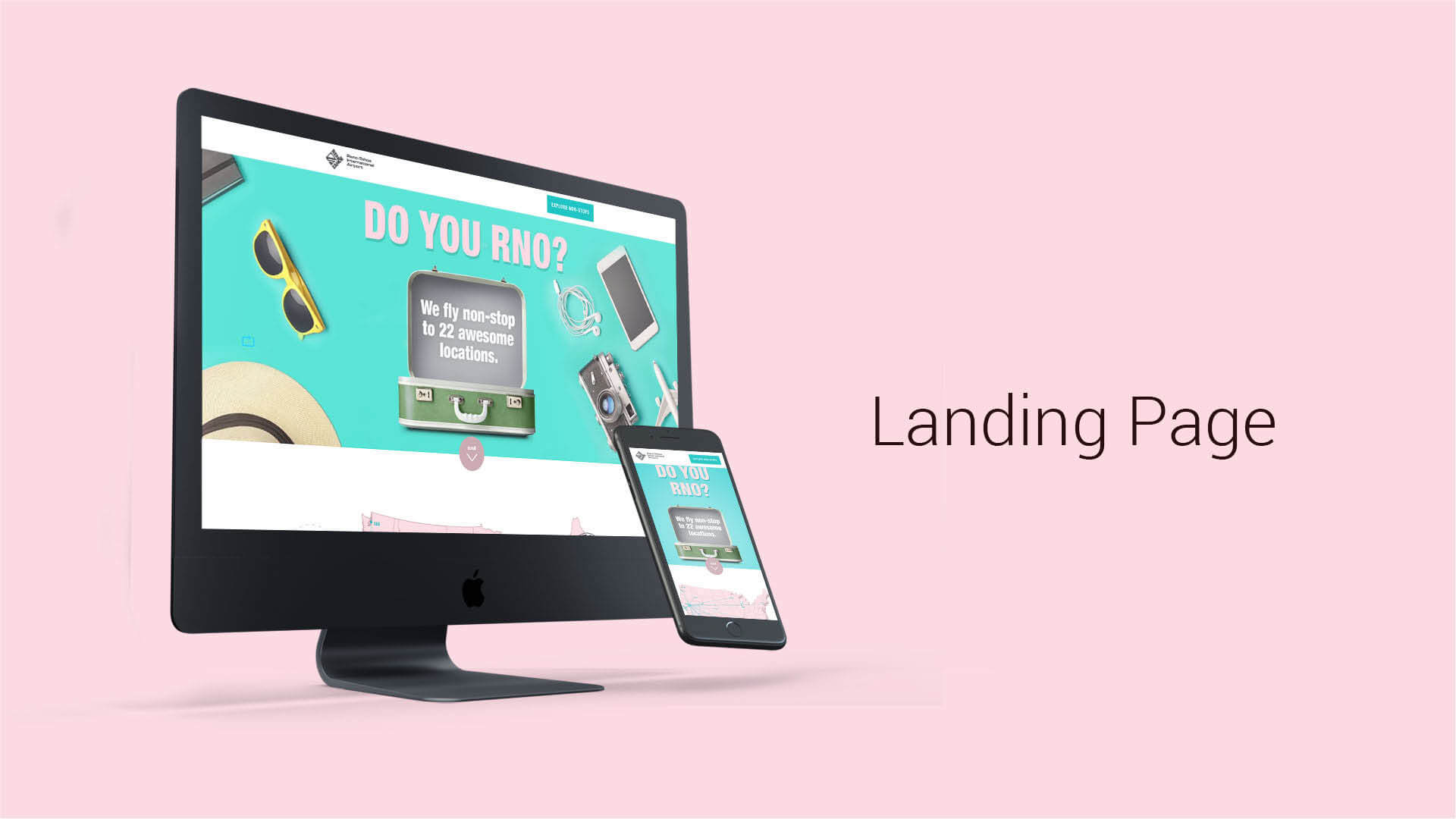 On the page, visitors were driven to explore non-stops flights and sign up for the RNO newsletter. The landing page also encouraged conversions by linking to both the main RNO website and a choice of booking engines tracked through the travel data co-op, Adara.
Digital Ad Targeting
Through advanced audience targeting techniques, we defined six target audiences who all had unique reasons to benefit from flying RNO. We broke them down into the following categories:
The Timely Traveler – They haven't booked a flight yet, but, boy oh boy, are they actively looking — from RNO, too!
The Nearby Navigator – They're local, but they're looking for flights offered by RNO at competing airports when they could just #flyRNO.
The Globetrotter – They're planning their next great adventure, but haven't looked at specific flight information just yet.
The Regular – These folks definitely RNO, but could use a push toward booking their next getaway.
The Southwest Wanderer – They're loyal to their favorite airline, Southwest, as airline reward members with no planned trips.
The Possible Passenger – These travelers matched broad demographic/psychographic profile matches for people most likely to travel from RNO.
Ad copy and designs, as well as the specific delivery platform, were all customized based on the audience's predispositions to ensure maximum impact.
Creative Testing
On the digital side, audiences were targeted through programmatic advertising strategies in paid search, display ads, paid social ads, streaming audio and video. This let our creative team tailor messaging for each specific audience to maximize creative impact. All of our audiences and targeting channels meant we had the opportunity to measure the effectiveness of our creative messaging by swapping out certain ads over others over the course of the campaign.
We constantly measured which ads performed better in terms of overall engagement and what drove the most conversions–ceasing to run ads that were underperforming and boosting the creative that made the most impact.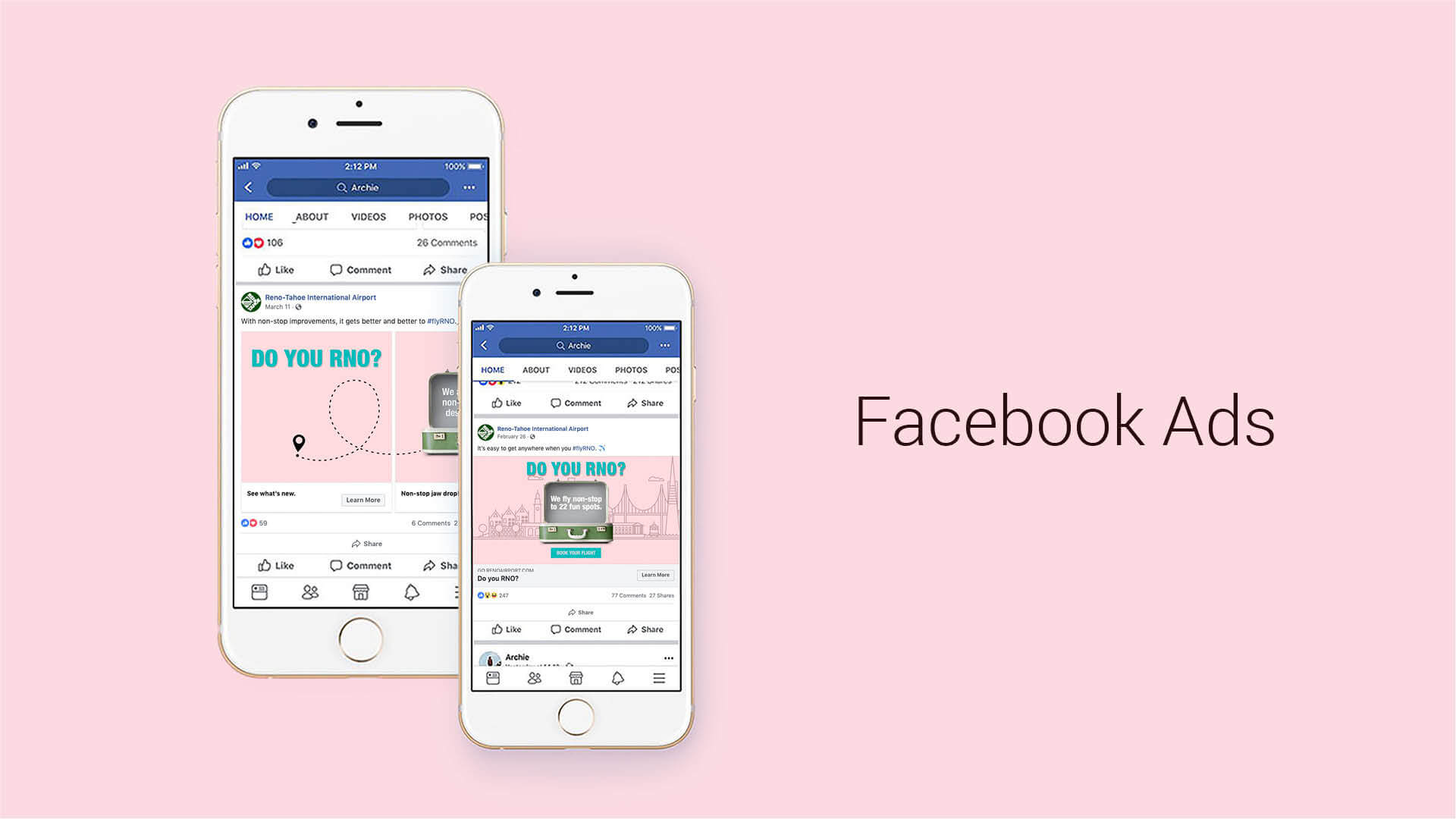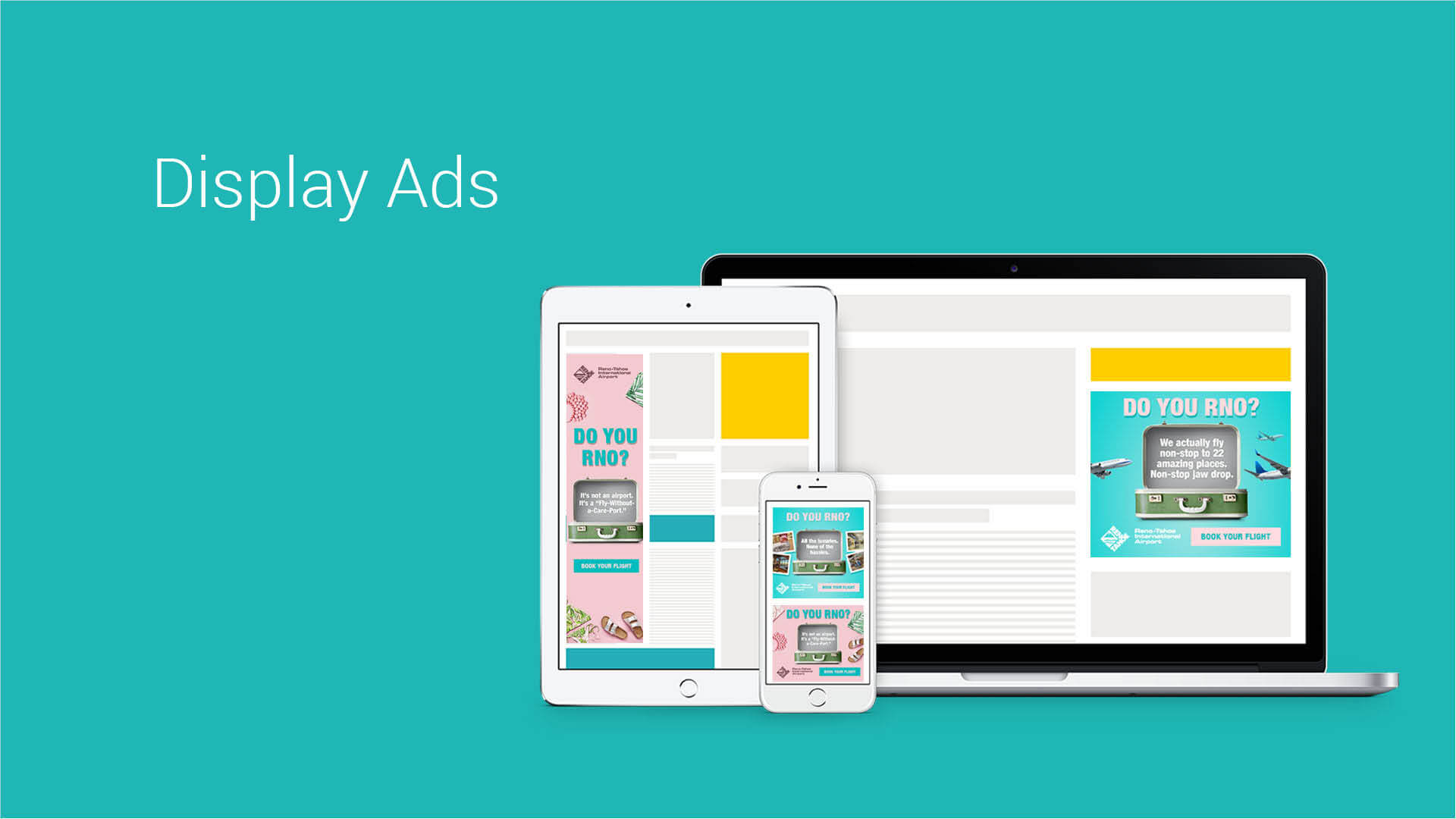 An "Always On" Approach
Not only did this empower our creative team, but it was crucial to our "always on" campaign approach toward minimizing ad fatigue. By breaking up advertising creative every four weeks with refreshed ad designs and messaging, users would consistently see new creative and continue to be engaged instead of ignoring repetitive ads.
For even greater ad variety throughout the campaign, the RTAA held bi-monthly promotional sweepstakes to three nonstop flight destinations out of RNO. We created a simple form on the campaign landing page that lets visitors easily enter for their chance to win the promotion while also providing us more key information about them for our audience targeting. Two birds with one stone!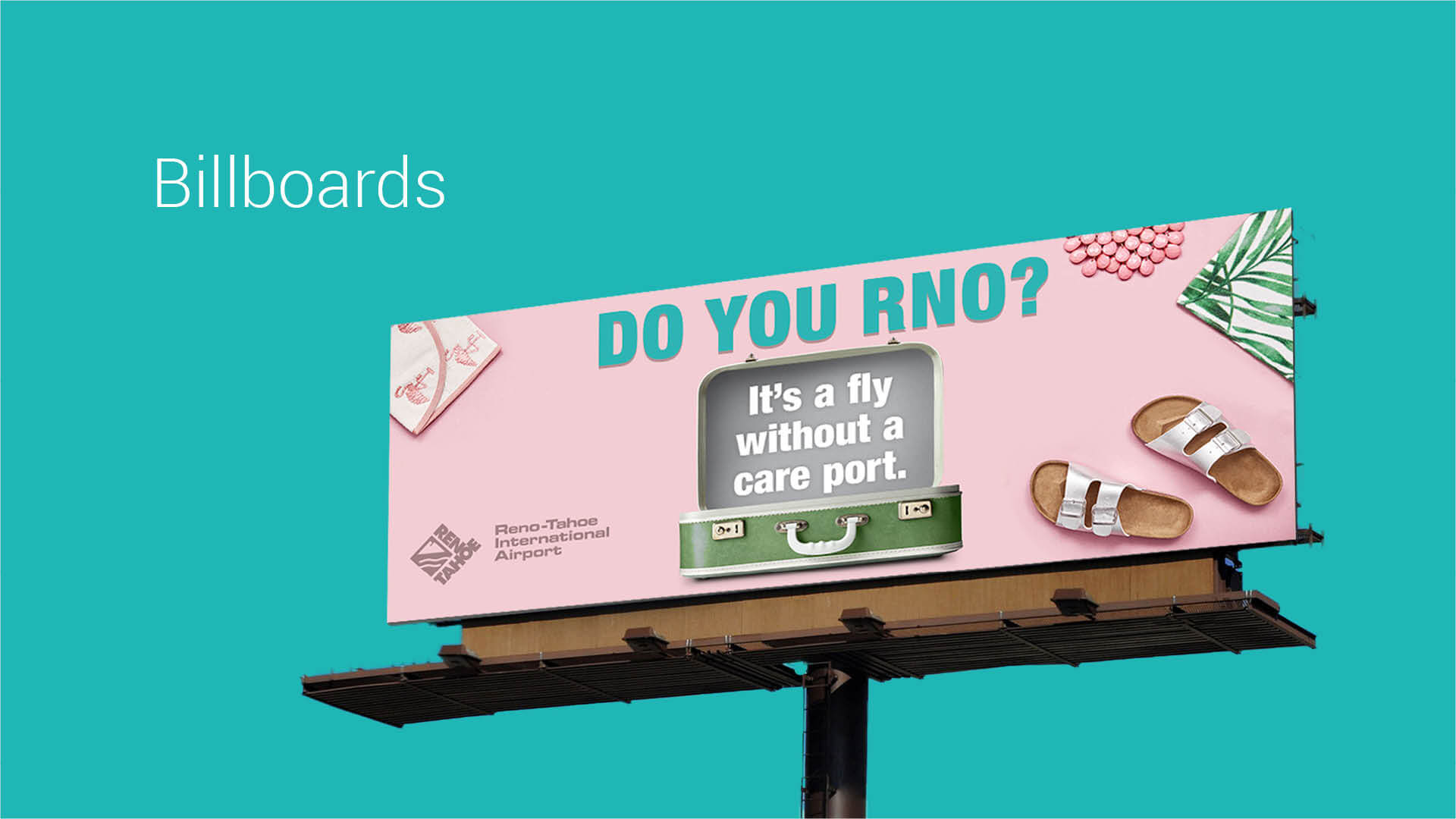 Impact
Across all channels, we drove 74,529 users to renoairport.com with 82 percent of them being new users – effectively reaching our goal to raise local awareness of all of the benefits flying RNO has to offer.