Renovating a Casino Resort Online
---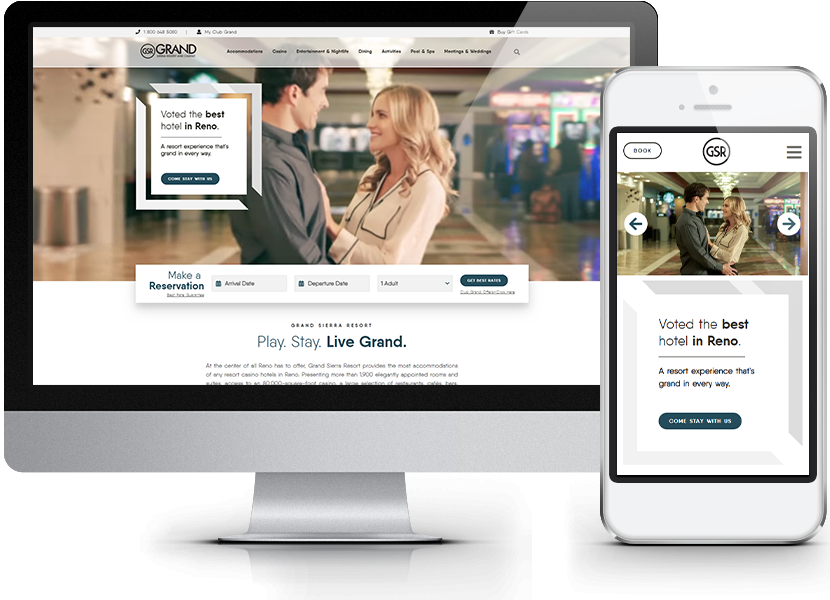 Over the past eight years, Grand Sierra Resort has undergone more than $175 million in renovations and upgrades, creating the premier travel destination for visitors to Reno Tahoe. The resort is home to nearly 2,000 newly-renovated guest rooms and a long list of amenities that support its claim as the number one entertainment destination in the region, including the impressive yet intimate, 2,700-seat Grand Theatre and the lavish, 25,000 square-foot LEX Nightclub.
The resort also proudly features northern Nevada's largest race and sports book, a plush spa, a well-appointed year-round resort pool and fire pit experience as well as a number of dining options including the region's only celebrity chef restaurant, Charlie Palmer Steak and Lounge. Further, the property's ongoing renovations have included an all-new casino floor, updates to its exterior and delivering top-service experiences for guests.
The Reno Tahoe resort needed a website and online presence to match its new physical appearance, so we partnered with the GSR to create a modern website to reflect the grandeur of the resort and make it easier for travelers to take advantage of everything the resort offers.
Approach
We leveraged the content-first methodology to guide the strategic direction for the resort website project. Our discovery process included stakeholder interviews to align on business goals, and both an SEO and a UX audit to evaluate current website performance and content gaps. After the discovery phase, we developed a content strategy focused on designing and developing the new website around Grand Sierra Resort's customer's journey and high-value topic pillars like hotels, RV parks, casino, entertainment and restaurants.
From the content strategy, our team developed a technical personalization strategy to execute on content siloing and proto-personalization via taxonomies and a query builder. In order to excite key audiences, we knew we needed to keep content dynamic and constantly refreshing for return visitors. We even customized calls-to-action based on key audiences and their buyer's journey.
In a saturated market for travel and tourism, search engine optimization (SEO) is critical. In order to increase revenue opportunities, we optimized website content to build organic authority around high-value topics. We also strategized ways to increase GSR's overall SEO footprint with topic clustering by major content pillars to reach target audiences searching by revenue-driving verticals.
"This new website is a digital extension of the resort's distinctive brand and gives the user a digital taste of what the actual experience is like."
B.C. LeDoux
Noble Studios Chief Creative Officer and Partner
Solution
The new website design enables visitors to more easily plan, book and experience these world-class property amenities, and offers a user-friendly mobile experience that allows consumers to explore content on their hand-held devices. This feature was critical given that six out of 10 visitors now visit the site from their mobile devices.
The site features extensive content providing an overview of the full list of resort amenities available to distinct customer segments, including players, leisure travelers, families, local residents and group and meeting planners. A flexible front-end design accommodates the custom color palette for the various property brand themes in GSR's brand guidelines.
While invisible to the site visitor, a complex technical integration on the site allows multiple casino operating systems to seamlessly work together. This ensures that visitors have the most up-to-date information on entertainment, promotions, and updates to enhance their current or upcoming stay.
The WordPress CMS built website also enables the GSR marketing team to make easy updates and avoid entering information in duplicate places. The flexible and scalable platform will accommodate future growth for the resort. The Grand Sierra Resort marketing team can be entirely self-sufficient when it comes to content and development, allowing them to iterate as needed.
"Our new website was carefully crafted to provide a user experience that parallels the guest experience found at Grand Sierra Resort."
Shannon Keel
General Manager of GSR
Impact
Grand Sierra Resort saw an immediate lift in its website performance after the launch, when we'd typically expect to see a post-launch slump. The site's organic traffic increased significantly in just the first week, and now that the site is a few months old, we're seeing continued improvement in the site's performance metrics.