Good News: Content Marketing Just Got Easier Thanks to BrightEdge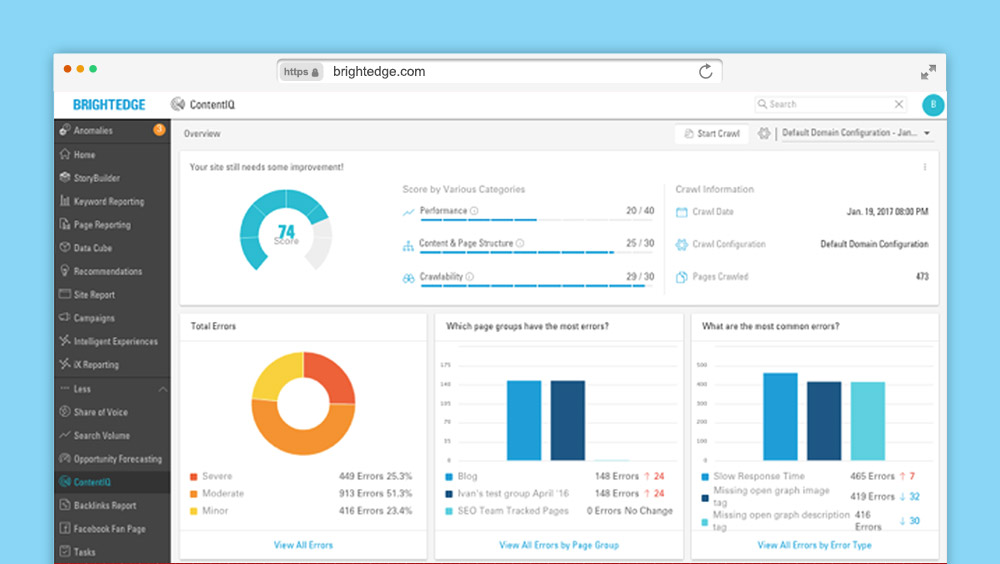 Keeping in line with the industry's rapidly evolving mobile-first mentality, proximity-based searches are becoming more popular than ever before. From "near me" to "open now" inquiries, users not only expect search results that are local and relevant, but better mobilized-content as well. And with these higher user expectations come greater content marketing challenges for you and your business.
If all this sounds a bit daunting, don't sweat it. Our friends at BrightEdge are here to help.
An industry leader in content performance marketing, BrightEdge is renowned for successfully helping brands to plan, optimize and measure campaigns based on actual content performance. And in 2016, companies who used the platform reported generating over $65 billion in organic revenue. That's why Noble Studios chooses to channel our SEO efforts through the BrightEdge platform, and we believe you should, too.
Earlier this month, BrightEdge debuted its latest local search and site audit innovations: HyperLocal and ContentIQ. The two newest platform capabilities are designed to better help you create and deliver the best possible content to your customers – no matter where they're searching from.
HyperLocal: Track Performance of Locations That Matter to You
Location-based mobile searches continue to grow. Google has made it a priority to provide its users with the most relevant results – even for the smallest geographical locations. So, to make sure you're maximizing your SEO and content marketing efforts, it is important to understand how users are searching and where your content is being seen.
Cue BrightEdge's HyperLocal capability, which is designed to help you better understand how specific content topics perform throughout various regions of the world. By providing demand and performance data across a range of local search engines and device types, HyperLocal gives you the insights you need to deliver highly targeted content experiences without fail.
ContentIQ: Pinpoint SEO-Specific Site Errors
Building and running a website can be a delicate, and at times, frustrating, process. With so many stakeholders responsible for overseeing its daily operations, site and content errors are hard to avoid. Not only can site errors be taxing on your internal team, they also directly affect user experience as well as visibility via search engines – leading to lower traffic, conversions and in some cases, even, revenue.
BrightEdge's ContentIQ is an enhanced site auditing system and direct solution to this all-too-common problem. By working in tandem with the platform's other features, ContentIQ inspects the content elements of your site and identifies areas of opportunity within content, page structure and performance.
Both products combined promise to elevate your overall content marketing strategy and the results it produces. At Noble, we look forward to integrating both of BrightEdge's latest innovations into our larger SEO/SEM strategy – and you should, too.
---
"In a world where visibility and performance are keys to marketing success, BrightEdge ContentIQ and HyperLocal innovations help search marketers stay ahead of the changing search and content marketing landscape. This is especially important in a mobile-first world where mobile-friendly site structure and mobile-specific content are essential for increasing traffic, conversions and revenue."
–Boaz Ronkin, BrightEdge VP of Product Marketing
---
As evidence of BrightEdge's latest product innovations, it's becoming clearer that content marketing plays a direct role in the success of your business' overall digital marketing strategy. This isn't something that just happens. As the user's journey becomes more complex, and, as we've learned, more location-based, so too does the relationship between your organic and paid search.
Discover the value of integrating your search efforts and how to get started by watching our latest webinar in partnership with BrightEdge.