Noble Studios Named to Inc. Magazine's 500 | 5000 List for Third Year in a Row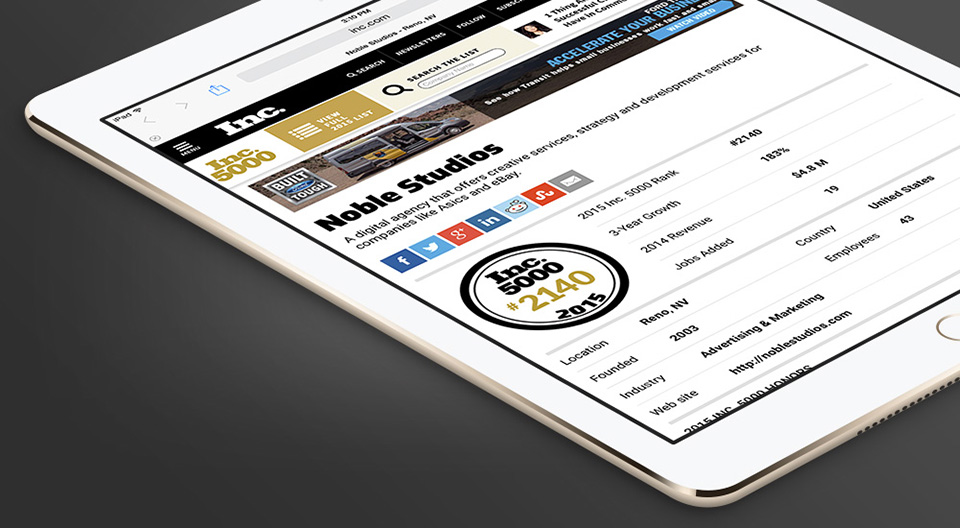 Noble Studios was recently ranked 2,140 among the fastest growing companies in America on Inc. magazine's 500 | 5000 list, marking the third year in a row for Noble's appearance on the list.
Noble joins Zappos, Intuit, Under Armour, Microsoft, GoPro and other prominent brands on the past and present list. Noble Studios is among only 27 companies from Nevada that make the list.
"We are incredibly proud to be recognized by Inc. Magazine for the third year in a row," said CEO and co-founder Jarrod Lopiccolo. "When we founded Noble Studios in 2003, our goal was to serve our clients with a passion for quality. It's because of our clients and our hard-working team that we're able to achieve honors like this."
The Inc. 500 | 5000 list represents an exclusive ranking of the nation's most rapidly growing private companies and is a comprehensive look at the most important segment of the economy – America's independent entrepreneurs. The list is ranked according to percentage of revenue growth from 2011 to 2014. To qualify, companies must have revenue of at least $2 million per year.
Noble first made the list in 2013, ranking 1,836 on the Inc. 500 magazine list, and continued its success in 2014, ranking 2,100.
"On average, the companies on the list have grown almost six-fold over the past three years. That's a result most businesses could only dream of," said Inc. magazine Editor in Chief Eric Schurenberg in a letter to Noble Studios announcing the award.
Two of Noble Studios' partners – Jarrod Lopiccolo, Season Lopiccolo – will join other honorees at the Inc. 500 | 5000 Conference and Awards Ceremony Oct. 21-23 in Orlando, Fla. Learn more at http://conference.inc.com/ .